How Alphonse Mucha's Iconic Posters Came to Define Art Nouveau
Alphonse Mucha's instantly recognizable works feature beautiful women with long tendrils of hair and flowing garments surrounded by decorative botanical motifs in delicate shades of peach, gold and ochre. The Czech artist originally found fame via his stunningly original poster designs for the legendary actress Sarah Bernhardt, but is best known today for his innovative advertisements, posters, and decorative works. 
Mucha was born in 1860 in the small Moravian town of Ivančice, then one of the Slavic provinces of the Austrian Habsburg Empire. Following his rejection from the Academy of Fine Arts in Prague Mucha was forced to earn a living as an apprentice scene painter in Vienna. His talents eventually caught the eye of two local counts, whose patronage allowed him to gain formal training in Munich, and later in Paris.
Whilst in Paris in 1894, the legendary stage actress Sarah Bernhardt commissioned Mucha to design a poster for Gismonda, a Greek melodrama she was to star in and direct. A delighted Bernhardt invited Mucha to serve as artistic director of her theatre, designing posters, stage sets, costumes, and jewellery for her productions. Mucha created an additional six posters for Bernhardt.
The Parisian printer Ferdinand Champenois recognized the commercial possibilities of Mucha's style and offered the artist an exclusive commercial contract. Mucha went on to design posters for brands such as JOB cigarette papers (1896), Chocolat Idéal (1897), and Moët & Chandon (1899).
In 1910 Mucha returned to his homeland after a 25-year absence. Mucha was able to present the completed Slav Epic to the city of Prague in 1928, 10 years after the founding of an independent Czechoslovakia. Tragically, only 11 years later, the Nazis marched into the city. As a prominent Czech patriot, Mucha was arrested and questioned by the Gestapo. In weak health and with his spirit broken, he died shortly after his release.
The Mucha Museum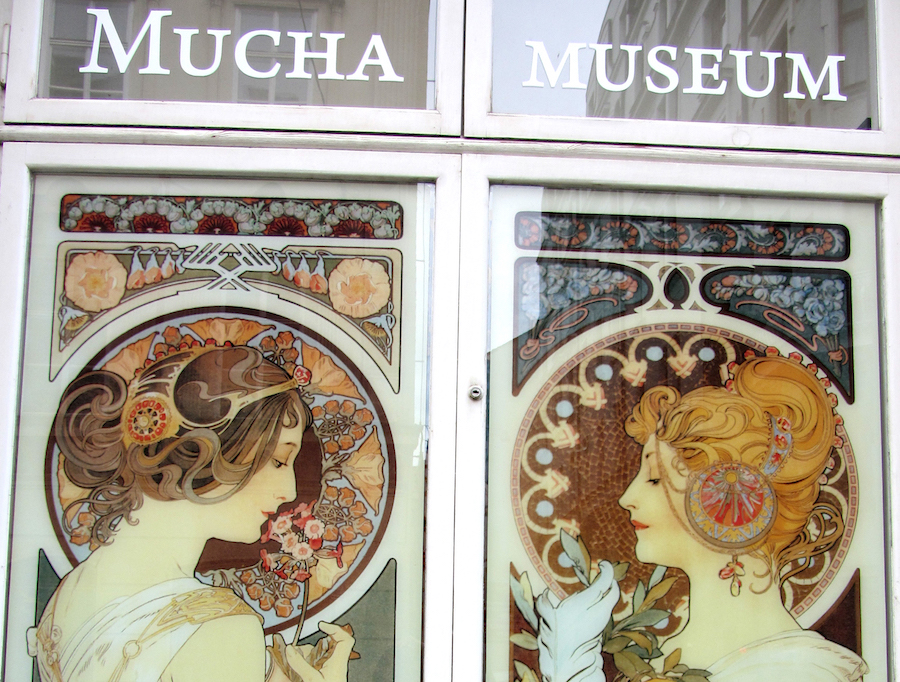 | | |
| --- | --- |
| Address: | Kaunický palác, Panská 7, 110 00 Prague 1 |
| Website: | www.mucha.cz/en/ |
| Opening hours: | Daily 10 a.m. – 6 p.m. |
| Admission fees: | CZK 300 for adults. CZK 200 for children, seniors (over 65) and students |
| Map: | Google Map |
Mucha's artwork can be found in many places in Prague including the Municipal House, the National art gallery, and even his design of a stained-glass window in the St. Vitus' Cathedral in Prague. But there is no better place to go to see Mucha's famous art than the Mucha museum in the centre of Prague.
The Mucha Museum is the only museum that is fully dedicated to Mucha's work, it was created in 1998 by the Mucha Foundation and has a large selection of original Mucha lithographs, posters, canvases and paintings along with the history and timeline behind them.
It is only a small exhibitions space, about 500 m2, so it doesn't take long to look around depending how much time you would like to spend admiring Mucha's work. If like us, you are an admirer of Art Nouveau and Mucha then this is a great place to stop and while away some time.
There is no photography allowed in the museum so the shots below are from TresBohemes.com