A former small logging town on the Deschutes River is now an all-year-long outdoor playground and one of the most liveable cities in the USA
As you wander the streets of this small city in Central Oregon you might be lucky enough to stumble upon a rare thing – someone who was raised here or at least remembers a time before the population started to explode 20 years ago. In 1990 Bend had around 20,000 residents, 30 years later it now has an estimated population of over 90,000. With growth comes good and bad things. On the bad side is the traffic, but it is nothing like a big city such as Seattle or San Francisco: more annoying than a pain. There are upsides to a bigger population such as more resources and investment and getting bigger names to come to town for concerts etc.
Where is Bend and how do you get there?
Bend is sort of in the middle of nowhere – which is not such a bad thing unless you do not like being in the middle of anywhere! Geographically, it is right in the middle of Oregon, so the region is known as "Central Oregon". It is about 150 miles from Portland, Oregon and takes about 3 hours to drive and you have to come across mountain passes on the way which can be quite iffy in the winter. Everywhere else is a long drive away. San Francisco will take about a day to drive from as will Salt Lake City. Seattle and Boise will take about half a day.
The quickest way to get here is by flying. There is a regional airport in Redmond, Oregon about 18 miles from Bend which has direct flights from Portland, Seattle, San Francisco, Salt Lake, Los Angeles and Denver.
Other than that, there is no train and whilst there are some buses, mainly from Portland, they run only a couple of times a day.
What is Bend's climate like?
Well in a word great. Bend has the highest average number of sunny days in the state. Clear days average 158 days per year with an additional 105 days that are mostly sunny. Many of the remaining days provide substantial sunshine. Days that are totally cloudy do not often occur.
Bend sits on Oregon's high desert at an elevation of 3,600 ft (1014m) so, for newcomers, it takes a while to acclimatise.
Located west of the Cascade Mountains, Bend gets the benefit of the protection of these mountains, as most of the crappy weather comes from a westerly direction.
The winters are chilly and sometimes very cold, mostly at night, but there are plenty of crisp winter days to enjoy. In the summer it gets hot during the day, but not oppressively so, and because of the low humidity, the temperatures drop quickly after sunset. So, you don't often need to have the airconditioning on! But at nighttime even on the hottest day, you are likely to need to wear a sweater.
The air in Bend is extremely clear (except when there are wildfires close by) and there is little light pollution. Therefore you get amazing bluebird days, incredible sunrise and sets and the most perfect night skies.
Some areas around town:
Downtown Bend is quite small. While most of the town has grown the downtown area has pretty much stayed as is, with shops, bars and restaurants being at the forefront. Whilst most of the shopping has headed out to the malls in the suburbs what is left is a range of boutique-style shops with a great selection of clothing and gift stores (after all this is a fast-growing tourist destination.)
The historic downtown area is made up of two streets, Wall Street and Bond Street. These streets and the side streets that connect them are where the action really takes place. One of the most distinctive buildings along Wall Street is the Tower Theater, a thriving entertainment hub for the community.
In the olden days, Bend used to be a logging town nestled on the banks of the Deschutes River. On the banks of the river stood lumber mills and yards. The logging industry left the area some time back and the mills stood empty until the land was purchased and turned into a shopping and dining centre that is known as the Old Mill District. The original mill building itself with its distinctive three chimneys, now a much-loved landmark, still remains and is now home to an outdoor retail specialist, REI.
As well as shops and restaurants the Old Mill area is home to a cinema complex, riverside walks and a concert venue; the Les Schwab Amphitheatre. In addition to the retail and music attractions, in the summer you will find the river full of people enjoying the cooling waters in kayaks, on standup paddleboards and simply floating in tubes (and other inflatables).
A more recent addition to the shopping and dining areas of Bend is the up and coming, trendy Box Factory area, which lies south of downtown close to the Old Mill District. The 100-year old former box and crate factory which was operated by Brooks Scanlon Lumber is the last standing historic box factory in Bend, Oregon.
It has been renovated to house some retails stores, several bars and restaurants and several other interesting shops, including an old-style barbershop. The adjacent area to the Box Factory, which used to be a whole lot of rather ugly and dilapidated storage sheds has also been renovated. The sheds have now gone and replaced with an interesting coffee-come-bar called "Spoken Moto", several food carts and cool outdoor seating area where small concerts are held in the summer months.
Explore some of the great parks Bend has to offer
If you want to escape and get some fresh air then Bend has a lot to offer. In addition to the wilderness of the Deschutes National Forest, there are some spots closer to town that are fun to explore and are great if you want to take a short walk rather than an all-out hike!
Right next to the downtown area is Drake Park, a much-beloved gathering place for the local community. There is nearly half-a-mile of riverfront with numerous sturdy old-growth trees and lawn. Running through the park are paved pathways which means even an old codger like myself can make it through without tripping themselves up. This is a lovely place to spend some time, especially in the Spring, Summer and Fall. During the Summer numerous events happen in Drake Park, so if you happen to be passing check it out.
Just a mile or two further down the Deschutes River from Drake Park is the delightful Sawyer Park. Here the river narrows and there are several sets of gentle falls interspersed with some pools, which make a nice place to hang out in the summer and dangle your feet (or whole body if you are up for it) in the icy water. There are some trails that run alongside the river and connect with other trails, so you can literally walk for miles and miles.
If you are looking for something a bit more authentic when it comes to Central Oregon forest land then you should take a trip out to Shevlin Park on the west side of Bend. This lovely park 650-acre park is ideal for long dreamy hikes, mountain bike adventures or simply to while away an hour or so surrounded by nature. There are numerous trails that take you along the bubbling Tumalo Creek or deeper into the wilderness. From Shevlin Park, you can access hiking and mountain bike trails deep into the adjacent National Forest.
Summer & shoulder season activities:
1. Mountain or road biking
Bend is a paradise for mountain bikers! There are literally hundreds of miles of fantastic trails for bikers of all abilities. The Central Oregon Trail Alliance (COTA) manages 700 miles of trails in the area with evocative names such as Whoops, Funner and Tiddlywinks. Beyond the trails managed by COTA, there are many additional miles available – so you'll never get bored. Truly a spectacular place for mountain biking!
2. Take a hike
If hiking is more your thing there are plenty of places near Bend where you can put on your hiking boots and hit the trails.
Some of our favourite places to hike are Smith Rock State Park, Tumalo Falls, Newberry Crater, the Blue Pool trail and the Green Lake Trail. These are to name but a few and there are options for all abilities, from the casual rambler to the serious hiker.
3. Kayak on a lake (or river)
Central Oregon is blessed with rivers and lakes that are wonderful to explore by kayak or stand-up paddleboard. In town, you can paddle up and down the gentle waters of the Deschutes River for a mile or so. If you are a little more adventurous why not head out of town and find other spots along the Deschutes River or alternatively go up into the mountains where there are several lakes. Our favourite lakes are Sparks, Hosmer and Suttle Lake which offer calm waters and spectacular mountain vista backdrops.
Tumalo Creek Canoe and Kayak is located in Bend close the Old Mill District and here you can rent kayaks, canoes and paddleboards by the hour or for a day if you want to explore further afield.
4. White water rafting or kayaking
If kayaking on a lake or slow-moving river is not exciting enough for you then you could try white water rafting on the Deschutes River just outside of Bend. There are several rapids along the river, some of which are very dangerous, but Big Eddy is perfect for those who want to try out shooting some white water for the first time. Sun Country Tours run rapids adventures on the Big Eddy or if you are looking to make a day out of it they take tours up to the McKenzie River and the Lower Deschutes River at Maupin, Oregon.
You can also kayak these rapids or alternatively in Bend itself on the Deschutes River close to the Old Mill District (by the Tumalo Creek Kayak and Canoe store) is a white water park that offers a short set of man-made rapids.
5. Float on the Deschutes River
A more relaxing way to spend time on the water is to get a tube or any other inflatable and slowly float down the Deschutes River. There are put in points at various places along the river depending how much time you want to spend on the river. You can get in at River Bend Park, where you can hire tubes in the summer, or walk further upstream for a longer float. From here you can lazily float down to the Colorado Avenue bridge where you can choose to get out or transverse the white-water park, which is a little bit bumpy, but exciting and float off down to Mirror Pond in Drake Park in the heart of Bend's downtown. There are shuttle buses that run from Mirror Pond to River Bend Park to take you back to the start point. Tubes can be rented from Sun Country Tours.
6. Play some golf
If golf is your thing then Bend and Central Oregon have plenty to offer, with 30 courses within 45 minutes of each other, three of which are in Golf Digest's Top 100. Some of these courses are part of spectacular resorts, so you can make a real vacation out of your golf visit. In the Spring months, on those bluebird days, it is possible to ski in the morning, and then play a round of golf in the afternoon.
7. Go fishing
I am not a fisherman myself but I know lots of people who rate Bend and the Central Oregon area highly. In fact, Fly-Fisherman Magazine rated Bend as one of the Top 10 ​fly-​fishing towns in the United States.
In addition to year-round fishing for trout and steelhead, Bend is surrounded by nationally renowned rivers, streams, and lakes that provide anglers with a huge variety of world-class fishing opportunities.
The Deschutes River is the primary waterway in Central Oregon. Originating from its spring-fed headwaters in the Cascade Mountains west of Bend and ending its northward journey at the Columbia River, the Deschutes River offers an astonishing 252 miles of fishable waters. While the Deschutes River is Bend's most renowned river, the Metolius River is considered by many to be one of the most beautiful and challenging fishing destinations in the West.
8. Visit the High Desert Museum
Opened in 1982 the High Desert Museum is located just five minutes south of Bend, Oregon on Hwy 97, and includes a museum store and café. The museum is open every day except Thanksgiving, Christmas and Fourth of July.
The 100,000 square feet of exhibit space in the museum has several permanent exhibition halls dedicated to the ecosystem of the high desert, the culture of the first nations and history of European settlers coming to the region. Additionally, there are temporary exhibits that follow similar themes to the permanent exhibits.
9. Catch a festival or rodeo
Central Oregon has a number of festivals and events that run throughout the year. As well as street festivals there is the Sisters Outdoor Quilt Show that runs in July in the small town of Sisters, Oregon. The same town also runs a popular Folk Festival in September and the Sisters Rodeo in June.
If rodeos are your thing there are several throughout the summer and fall in Central Oregon, including an ever-popular rodeo at the Deschutes County Fair in Redmond, Oregon in August.
10. Watch a concert at the Les Schwab Amphitheater
The Les Schwab Amphitheater, located on the banks of the Deschutes River, opposite the Old Mill District is an 8,000 seat venue that hosts a popular concert series from around Memorial Day through early October. An increasing number of popular artists swing through here as part of their tours of the west coast. You can get more information about the upcoming concerts at Bendconcerts.com
Winter season activities:
1. Alpine (downhill) skiing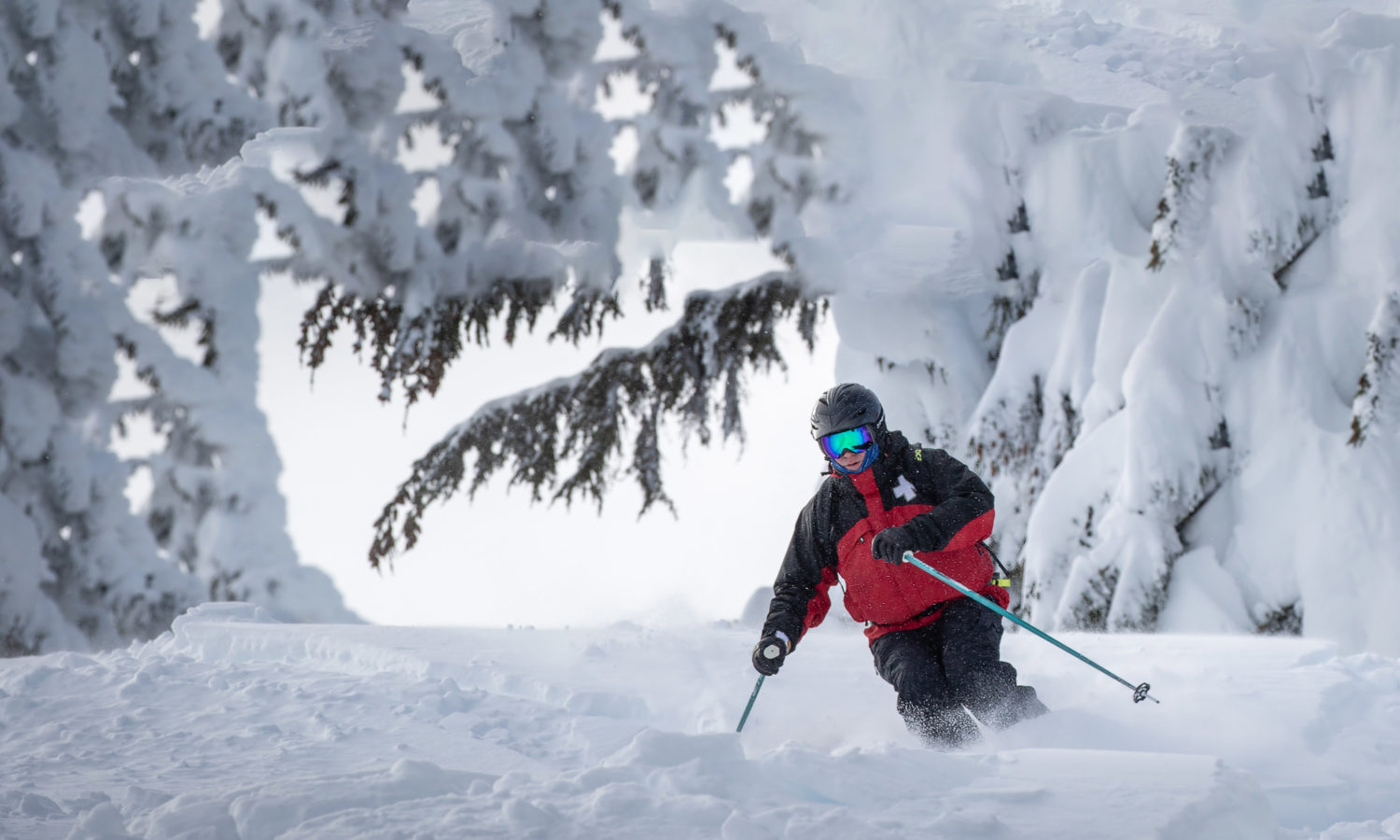 Bend sits just to the east of the Cascade Mountains, some 22 miles from the Mount Bachelor Ski Area which is now the 6th largest ski resort in North America – with over 4,000 skiable acres and 3,365 feet of vertical drop. The snow here is great and often at its best in the spring. It is not unknown for people to be skiing on the mountain on July 4th!
2. Nordic (cross-country) skiing
As well as alpine skiing the area has plenty of great places to explore on cross-country skis, whether through nordic style or skate skiing. There are trails that start close the Nordic Ski Center at Mount Bachelor's West Village or you can try out the many miles of trails that run from the sno-parks at Virginia Meissner, Swampy Lake, Wanoga or Edison Butte.
3. Snowshoeing
If you want to head out and explore the wilderness during the winter months then there is no better way to do this than by donning a pair of snowshoes and getting on the trial. There are endless opportunities for exploring on snowshoes in the snow-covered Cascades near Bend.
Here are some places you might want to check out:
Skyliner sno-park is on 10 miles from downtown Bend. It is a small sno-park and is at an elevation of 4,700 feet so the snow is not always reliably deep for snowshoeing but when it is this is a great place to step out into the snow. The walking is easy to moderate and you can find trails that will take you anything from 1 to 10 miles.
Tumalo Mountain offers some fantastic panoramic views of the Three Sisters and Broken Top mountains. The trailhead starts at the northwest end of the Dutchman Flat sno-park. There is a good elevation climb here so if there is plenty of fresh snow the going can be tough, especially if you are not familiar with the altitude.
At 5,500 feet in elevation Wanoga Sno-Play area offers plenty of snow-filled fun of all types. This sno-park offers the only sanctioned sledging hill, which makes it a popular choice for families. The Wanoga snowshoe trails offer the best option for families and beginners as there are many different options. For first-timers, there is a 1-mile groomed snowshoe trail leaving from the parking area.
Virginia Meissner snow-park offers a 3.3 mile moderately trafficked loop trail located near Bend, Oregon and is good for all skill levels. The trail is primarily used for hiking, cross country skiing, and snowshoeing.
4. Romantic getaway
Not everyone's idea of fun is to play outside in the winter months of the year but spending time inside for a few days in a winter wonderland can make a wonderful romantic getaway. There are several resorts around the Bend area that are fabulous places for a getaway, including Sunriver Resort, Pronghorn and Brasada. They don't always have the guarantee of snow but if that is what you want then go to Elk Lake Resort, high-up in the Cascade Mountains. In the winter you can get here by skiing in or by snowmobile – alternatively, they offer a snowcat service from the Dutchman Flat Sno-park parking lot.
Where to eat and stay:
If you are looking for places to stay and eat the Visit Bend website has a comprehensive list of hotels, bed and breakfasts and restaurants.
… In summary
Bend, Oregon is a fantastic place to visit at any time of the year. There are plenty of activities for those who love the great outdoors – especially if you love winter sports, biking and hiking. If you want a more relaxing time there are numerous entertainment options that meet a variety of tastes and interests!