Twelve great things to do when visiting Nevada's Valley of Fire State Park. Explore trails through the red rock formations and see some of the best petroglyphs in the State
Valley of Fire State Park is only a short ride from Las Vegas and makes an ideal day out to escape the hubbub of Vegas' casinos and fast-paced way of life. The name Valley of Fire is derived from the red Aztec rock formations that pepper this desert landscape. As well as just admiring the impressive rock structures there are a number of trails that lead to petroglyphs.
ELEPHANT ROCK
Close to the East Entrance of the Park, you'll find Elephant Rock, which somewhat resembles, with a little bit of imagination an elephant. There are also some short trails here to explore some of the rock formations.
Elephant Rock – Valley of Fire State Park
Tortured red rock formations
STONE CABINS
Close to the turn-off for Mouse's Tank Road from Valley of Fire Highway is a small pull-in (with a restroom) where stone cabins were built with native sandstone by the CCC (Civilian Conservation Corps) in the 1930s as a shelter for passing travellers.
Stone cabins for passing travellers
Sandstone cabins – a shelter for passing travellers
TAKE A SCENIC DRIVE ALONG MOUSE'S TANK ROAD
The drive along Mouse's Tank Road weaves through some of the most impressive rock formations inside the Valley of Fire State Park. It is a great way to see the Park within the comfort of your own vehicle. The road will take you to some of the best trails and viewpoints.
MOUSE'S TANK – PETROGLYPHS
This is a short 0.75-mile trail that is very easy, although not wheelchair accessible.  The trail itself is not very exciting but there are a number of places along the way where you can see some fairly well-preserved petroglyphs.
Mouses Tank Trail is short, flat and easy
Rock formations along Mouse's Tank Trail
Petroglyphs on the walls of Mouse's Tank Trail
RAINBOW VISTA
The canyons, domes, towers, ridges and valleys of Rainbow Vista at Valley of Fire were carved from sand deposited 150 million years ago, during the time when the dinosaurs walked the earth. Rainbow Vista is a viewpoint in Valley of Fire State Park, where the road reaches the top of a low ridge revealing a vast area of multicoloured rocks stretching for many miles northwards, rather different than the dark red cliffs found further south. The panoramic view from Rainbow Vista is a great place for photos.
FIRE WAVE
Out by the White Domes Trail is another newer trail. The Fire Wave Trail is a 1.5-mile round hike that leads to an incredible striped section of slick rock.
PASTEL (PINK) CANYON
The Pastel (Pink) Canyon is an unmarked canyon (GPS coordinates 36°28'47.0″N 114°31'36.0″W) in Valley of Fire State Park. A great way to avoid crowds, and easily one of Nevada's most beautiful geological displays. The parking limited to a couple of cars. From the parking head east into the canyon, which only takes 10 minutes to walk through and admire the pink walls of this canyon that have been carved by the weather over the millennia.
Pastel Canyon (Picture Credit: Earthtrekkers.com)
WHITE DOMES LOOP TRAIL
White Domes are sandstone formations with brilliant contrasting colours and a one-mile hike. The White Domes Trail is a moderate loop that combines sweeping desert vistas, a slot canyon, windows, caves and a historic movie site. 
White Domes Trail (Credit: http://www.stavislost.com)
White Domes Trail – slot canyon (Credit: flyinghighonpoints.com)
SEVEN SISTERS
Located on the Valley of Fire Highway this group of rock formations has been quaintly named the 'Seven Sisters'
ATLATL ROCK
An atlatl (at'-lat-l) is a device used for launching a spear; usually, a short cord wound around the spear so that, when thrown into the air, the weapon will rotate. The ancient Indians used these weapons and they are depicted in the petroglyphs (rock carvings) located at Atlatl Rock which can be best seen by climbing up some stairs.
Atlatl Rock (Credit: Earthtrekkers.com)
THE BEEHIVES
The Beehives are sandstone formations that are an excellent example of geologic cross-bedding, with grooved lines going in different directions. The layers or beds represent different layers of silt that are deposited at different times. The beds indicate the angle of the wind or water was moving at the time the material was deposited.
There is a short trail that winds through rocky dunes with hills of the Muddy Mountains visible in the distance.
BIGHORN SHEEP
Keep an eye out travelling around the Park and you may spot the magnificent desert bighorn sheep, Nevada's State animal, that roam the park. We were very lucky during our trip to come across this small group grazing at the side of the road by the Atlatl Rock turnoff. Apparently, this is a place they frequent regularly.
About Valley of Fire State Park
World-renowned for its 40,000 acres of bright red Aztec sandstone outcrops nestled in grey and tan limestone, Valley of Fire State Park contains ancient, petrified trees and petroglyphs dating back more than 2,000 years.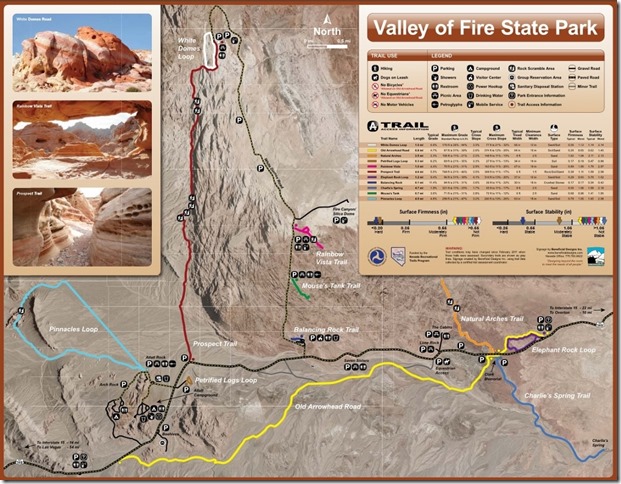 Getting there
From the Las Vegas Strip: Take the I-15 North approximately 35-40 miles. Take Exit 75 and head East toward Valley of Fire/Lake Mead. Drive approximately 17 miles on Valley of Fire to the West Entrance Station. You can also take the more scenic route and see Lake Mead as well: Take the I-15 North to Lake Mead Blvd.